PAW Subaward Payment Request Instructions
Click here for a printer friendly version of these instructions.
Subaward payments are no longer being processed on purchase orders or payment requests. A separate form was created to include questions from the previously required "invoice checklist" and to obtain the approval of the PI in the requests workflow, in addition to the Department approver and Accounts Payable approver.
To enter a Subaward payment, select "Subaward Payment" in the Forms section on the PAW home page.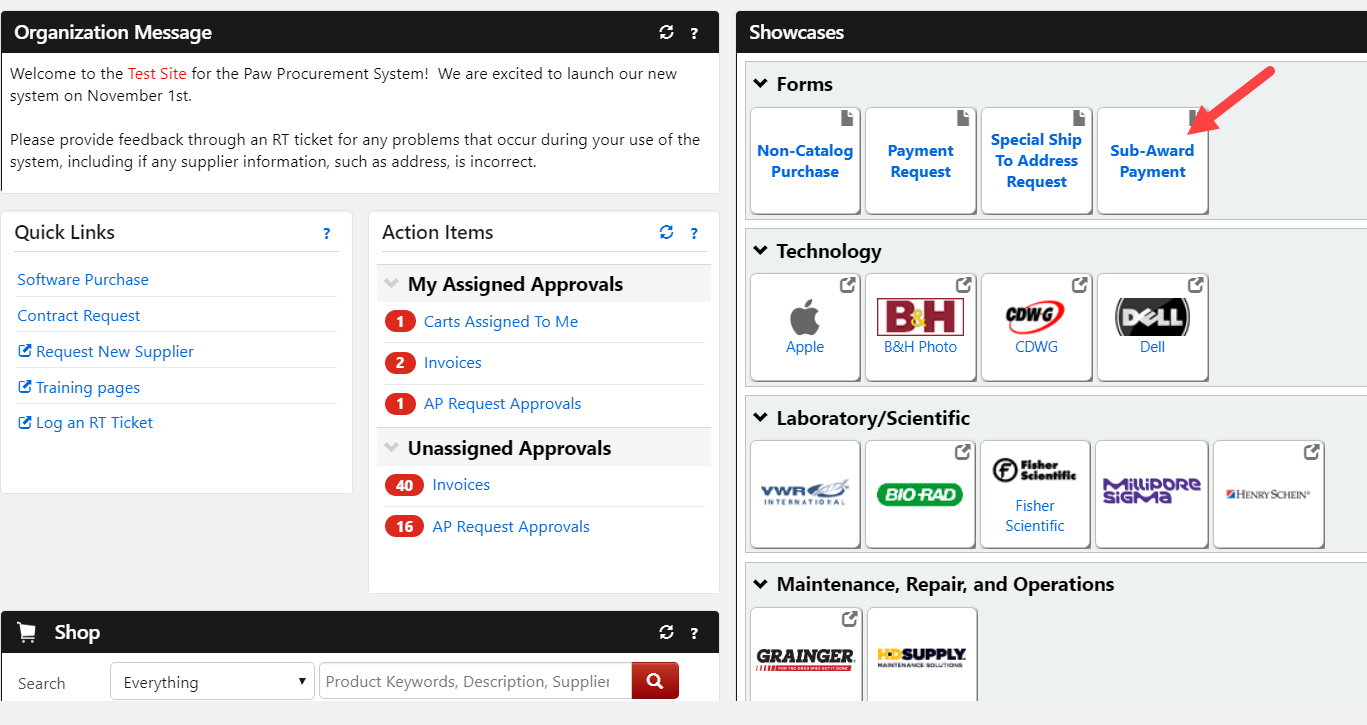 Click on the Supplier section to search for a supplier. You may begin your search by typing a part of the supplier's name in the search box or click on the Supplier Search link, which will open a new window.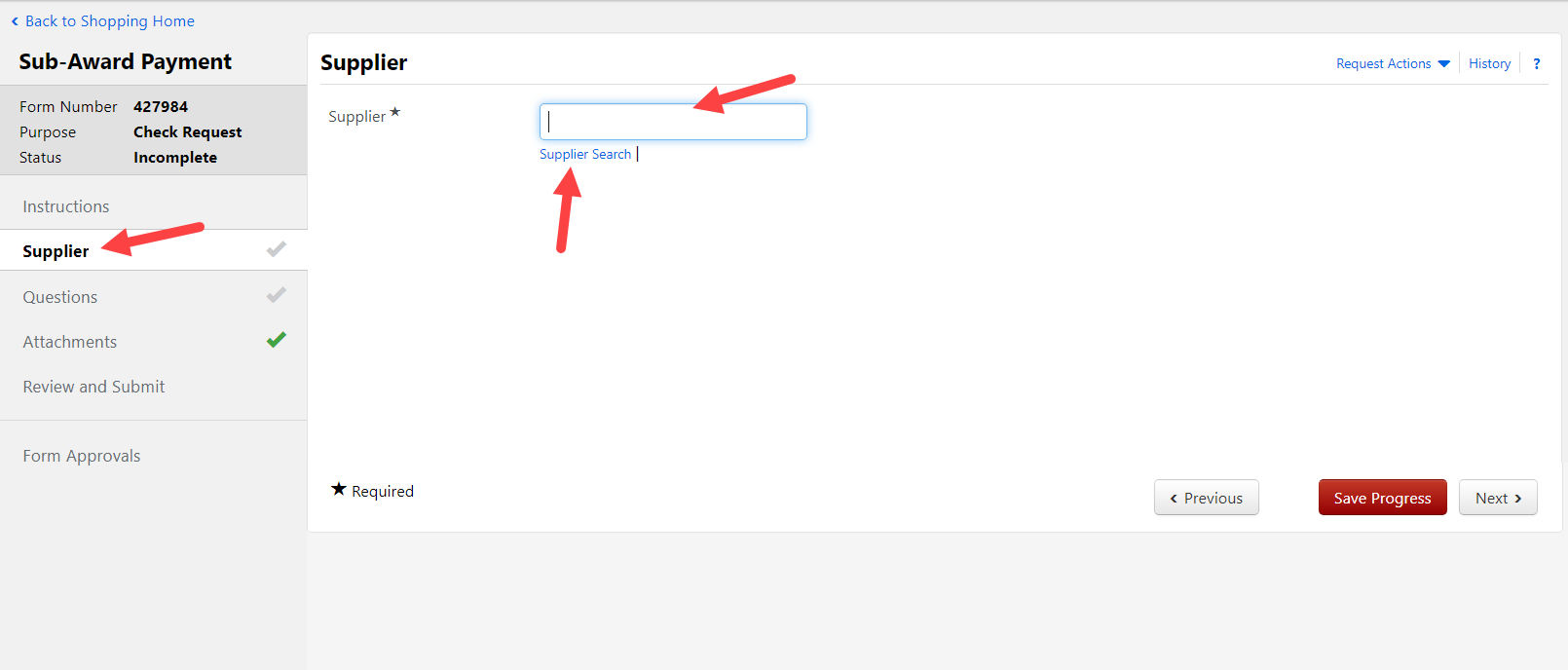 Once you have selected the correct supplier, please check the Remittance address against the invoice to make sure it is correct. If the correct address is not available, please contact Accounts Payable through RT with the correct information so that the payment will go to the right address.
Once you have selected the correct supplier and remittance address, click SAVE PROGRESS, then NEXT.
The Questions section includes questions that were previously asked on the Invoice Checklist, along with Invoice number, date, and amount information. All questions with a * require answers to move forward.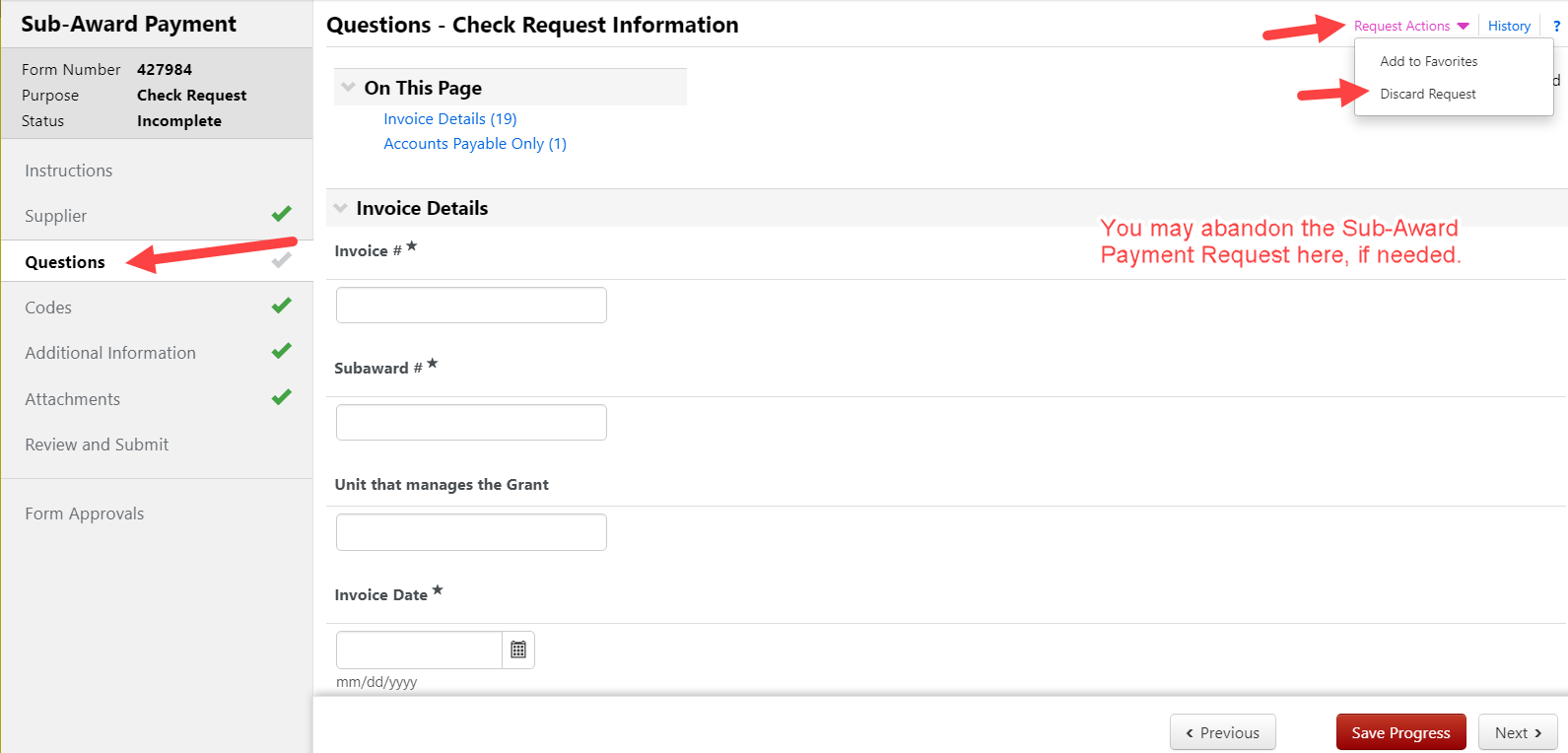 Once you have completed answering all questions, click SAVE PROGRESS, then click NEXT.
The Codes section contains the chartstring to which you would apply the invoice charges. This section will pull in your default chartstring from your profile. If you wish to change it, you may click EDIT to key in the correct chartstring. You may select from chartstrings stored in your profile, or add new. You may also split your charges between more than one chartstring. Click SAVE when complete. Then click NEXT.
No information is required in the Additional Information section. Click NEXT.
The Attachments section is where you must upload the backup paperwork required for this type of payment. In this situation, the required paperwork is a copy of the supplier's invoice. Click ADD ATTACHMENT. Click UPLOAD, then click CHOOSE FILE.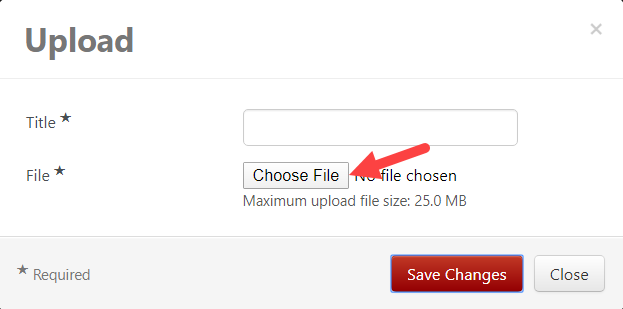 Once you have uploaded the invoice copy, you must create a TITLE for it, then click SAVE CHANGES two times. (If you only click SAVE CHANGES once then close, your invoice will not be attached)
When you see the request contains the proper attachment, click SAVE PROGRESS, then click NEXT.
Now that you have provided all the required information, you may then click SUBMIT. This will send your request to the Approval Workflow.
By clicking on the Form Approval section, you may see where your request is in the approval process.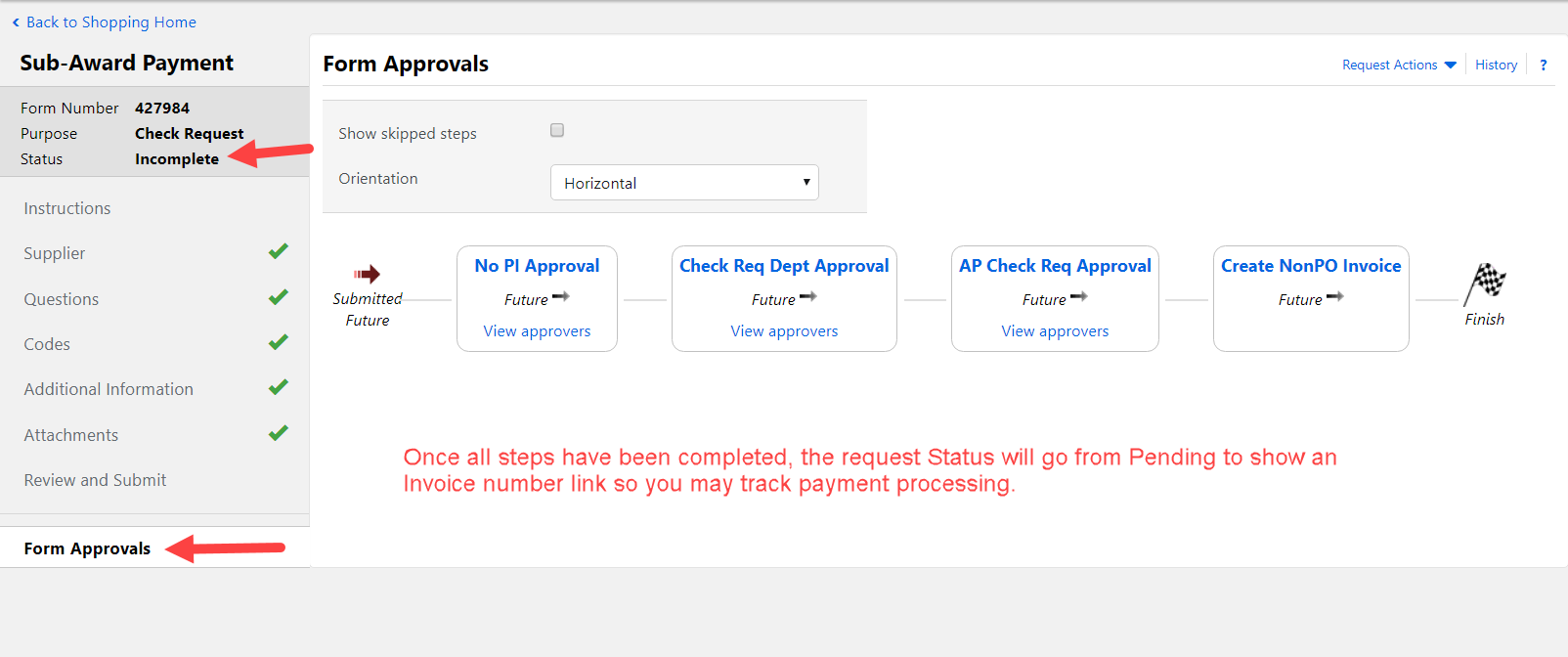 You may search for Draft Requests, Completed Requests, and Returned or Rejected Requests using the Accounts Payable menu item to the far left. If you know the Request number, you may use the search in the Cart/Notification area in the upper right corner.